Regular price
$98.00
Sale price
$93.00
Unit price
per
Sale
Sold out
Maximum Potency. Experience True Benefits with Our Premium Liposomal Glutathione Complex with C
Glutathione, vital in cellular processes, is produced less by our bodies as we age. Supplementing glutathione can benefit by raising low levels.†
Supports Immunity: Studies show increases NK "Natural Killer" immune cells in addition to being vital to T-Cell function†
Supports Cell Division: Several anti-aging effects and overall organ health. Studies show noticeable skin wrinkle reduction after supplementing glutathione†
Assists Cellular Waste Cleanup: Vital for restful sleep and recovery after exercise†
DNA Repair & Free Radical Scavenging: Keeps cells healthy and alive, preventing aging's effects†
Protects Skin: Naturally shields skin from UV and environmental damage†
Supports Liver Detoxing: Helps eliminate environmental toxins and ingested chemicals in our bodies, in addition to shielding the GI tract to prevent absorption†
100% Ingredients Are From Japan (Opitac®), Europe & USA with NO: Artificial Preservatives/Flavorings, Sweeteners, Soy, Gluten, or Alcohol - Made in USA
Delivered as a liquid liposomal supplement in a resealable screw-top fresh pouch.  Boosted with vitamin C for maximum effectiveness.
Share
View full details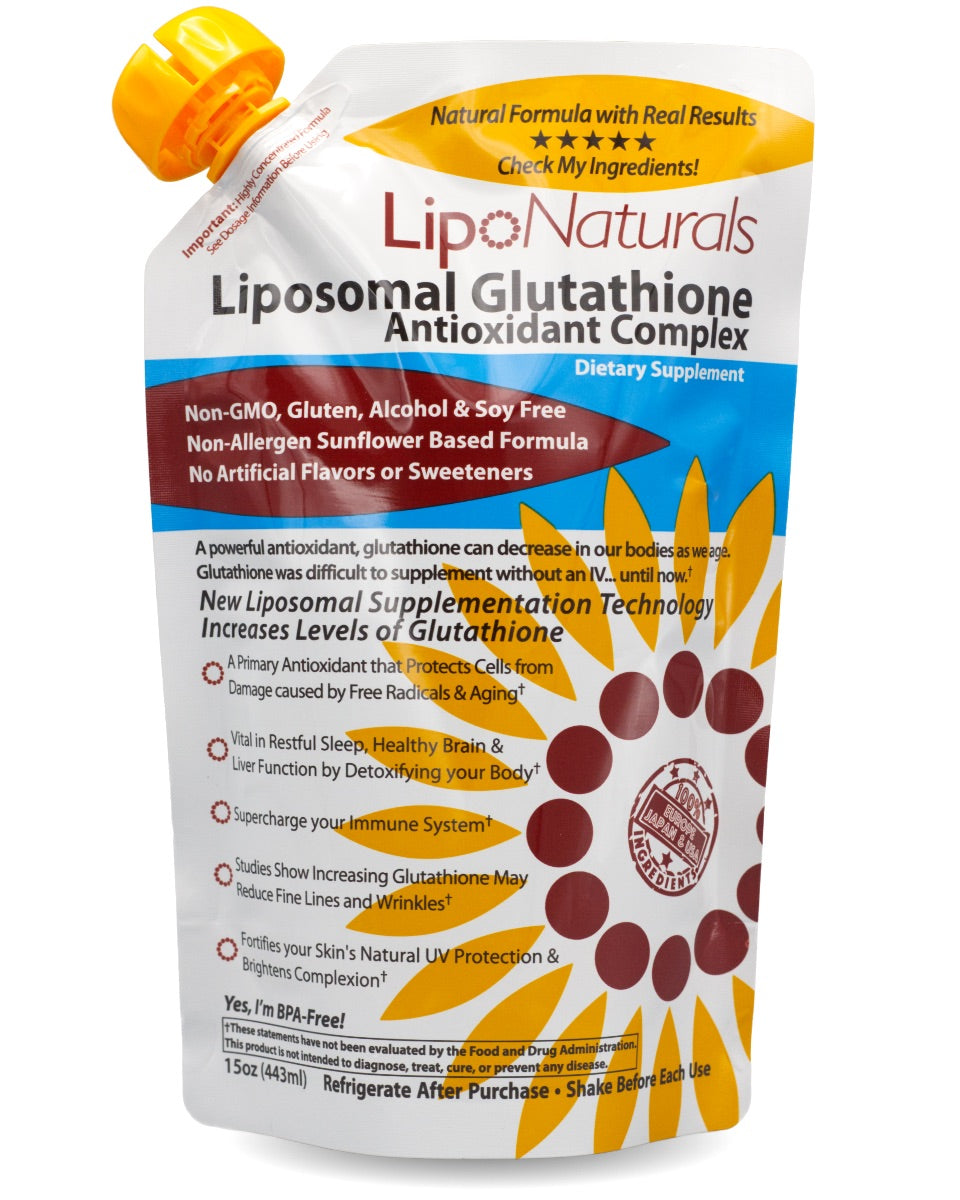 What is a Liposomal Supplement?
A new technology, liposomal supplements are the most potent dietary supplements that you can take orally. Lipo Naturals boosts supplement levels in your body far higher than previously thought possible without an IV. Most regular supplement pills, liquids, and powders have an upper limit that can pass through the digestive system.
Lipo Naturals encapsulates pure-grade dietary supplements in a microscopic lipid bubble - called a 'liposome.' This liposome, 1/500th the width of a hair, becomes a vehicle for its contents, exceeding the previous oral bioavailability of regular vitamins. With supplements encapsulated in this way, they're easy on the stomach, easily absorbed, and far more potent than other high dose supplements. They work so well, our customers are realizing many new benefits from our liposomal supplements!
Zero-Compromise Ingredients
Opitac®:  The sought after premium glutathione now in a liposomal supplement.
Glutathione, technically a tri-peptide, requires rigorous manufacturing standards to produce well. Lipo Naturals chose the highest grade Japan-sourced Glutathione available to match our liposomal delivery system. Our other ingredients are the best from Europe and USA. We believe there are noticeably improved benefits compared to inexpensive ingredients in other brands.
Lipo Naturals' Optimal Liposomal Delivery System Compared to Other Brands
Right-sized Liposomes Maximize Bioavailability

Some competitors state the smallest liposome possible and "clear liquid" is better, but this is incorrect. Having right-sized liposomes matched to the delivery method is optimal.

Lipo Naturals, one of the original liposomal brands, developed our formulas to give our customers results, not jargon.

What Are You Really Getting From Spray Pumps?

When seeking a high dose of some supplements, a good amount of physical product is required. Even dissolved in water, the physics of a handheld oral 'spray' delivery system are obvious. There's just a fraction of the desired amount delivered in each pump. This requires MANY pumps to equal the high dose most seek - the amount in a single dose of Lipo Naturals.

Designed for Results

Lipo Naturals targets pores in the stomach, delivering a higher supplement payload to the blood than claims by other brands of liposomes being absorbed in mouth mucosa (lining of the mouth). Our results are faster and more potent than the others. Thousands of customers have given testimonials extoling our benefits, giving us confidence that we properly designed our liposomal formulas.
LIPOSOMES ARE EFFECTIVE AND LIPOSOMES ARE HARD
Lipo Naturals' Quality Tested Liposomal Formula vs Others
Lipo Naturals Liposomal Supplement Imaging

Not all Liposomal supplements are what they claim to be. Manufacturing liposomes is fairly difficult. This is a microscopic image of Lipo Naturals. Our liposomes, too small to image with visible light, are instead imaged with extreme ultraviolet. Our liposomes are 1/500 the width of a hair. There's a few larger ones (we're not perfect, we try), but in general, those tiny dots are what you're looking for, and part of our quality checks.

Most other brands we test contain no liposomes even though "Liposomal" is on their labels.†

Leading Liposomal Glutathione Capsule... That Isn't

This image is from one of the most popular brands of "Liposomal Glutathione" in capsule form. You certainly get the convenience of a capsule but you aren't getting any liposomes. This image shows regular powdered glutathione mixed with lecithin and put in a capsule. The cost is much higher than regular glutathione capsules, but it isn't much different. It does not have the noticeable benefits of a true liposomal formula.†

Other Leading Liquid Liposomal Brand

This brand does actually make a liposomal supplement, but not all liposomes are created equal. Here the liposomes are extremely large and sparse/malformed compared to a properly designed and manufactured liposomal formula. This is only slightly better than regular supplements from capsules or powders, as the liposomes are not numerous or small enough to be absorbed and bioavailable.†

Leading Spray Pump "Liposomal" Glutathione Brand

This image is from the leading brand of spray pump liposomal glutathione. They make the claim that "clear" liquid is better. They state that "any formula that's not clear is not proper." We guess, they meant us. Our formula is cloudy, as it should be. What is clear is that there are no liposomes detected. The extreme ultraviolet (EUV) imaging used here can resolve very tiny particles. This is just plain liquid supplement sold at a high cost in an admittedly fancy pump.†
Just the Details...
Supplement Facts & Ingredients

Serving Size: 1 Tablespoon (~15 ml)
Serving Per Container: 30

Amount Per Serving

L-Glutathione (OPITAC®) Reduced: 500mg
Vitamin C (as L-Ascorbic Acid): 300mg
Phosphatidylcholine: 425mg

Other Ingredients: Distilled Water, Lecithin (from sunflowers), Natural Flavors (only fermented plum, mint, & linseed)

Vegan Food. Free of... Gluten, Soy, Alcohol, Sugar, or Dairy.

No GMO, MSG, or other mystery ingredients. 100% Sourced from USA, Japan, and Europe.

Refrigerate after purchase.
Dosage Information

Because Lipo Naturals doesn't add artificial flavors or sweeteners, the flavor is "interesting." There is a sulphur atom in the glutathione molecule that our noses and tongues are sensitive to. It's thankfully made to easily mix your dose, one tablespoon once per evening, in apple or other juice (tart cherry works wonders) to mask the flavor. And remember that you'll enjoy all the benefits, even if you don't enjoy the taste. Keeping the product as pure as possible does increase the potency and shelf-life, ensuring your body best takes advantage of the supplement.

It's best to take your dose on an empty stomach - you can eat after 5-10 minutes.

Why in the evening?

New research on Glutathione is showing a strong link to our circadian rhythms - and overnight detox cycle. Your body's natural levels of Glutathione rise in the evenings and and are lowest in the morning. This is likely because Glutathione is used extensively overnight to 'clean up' from your cells' daily activities - as a key part of detoxifying your body. Because of this, we recommend an evening dose before dinner. That will align best with how your body uses this master antioxidant. Studies are also showing that higher Glutathione levels will help you rest uninterrupted, waking refreshed. Your healthcare provider may suggest dosing at a different time of the day, and this is fine.

Lightly shake before each use.
Frequent Questions

What is Glutathione used for in the body?

Glutathione is a powerful antioxidant, but what does that mean? Glutathione's main role is to assist cells in 'cleaning-up' from their daily activities. Just like our bodies as a whole, as our cells work, they produce waste. Glutathione is there to help, both directly and indirectly, remove the waste compounds from the cells' metabolism. These compounds would become toxic to the cell if they built up. Glutathione also wears many hats, detoxifying our cells is just one. It's an agent in several chemical processes in the body that, although research is new, are key to helping our cells keep working in other ways such as DNA repair and cell division. This means Glutathione is showing to be a powerful anti-aging compound - as noticed by skin health. Our customers notice fine lines and wrinkles diminishing, and in general a healthier complexion. But this is just an outward indication of Glutathione's benefits that are also happening inside. More general information about what Glutathione is used for can be found on some external websites, such as WebMD.

Why Supplement Glutathione? Why in Liposomal Form?

Unlike Vitamin C in humans, your body does produce Glutathione in the liver, we just produce less of it as we age. We also have less available in our bodies if we're exposed to environmental or health stresses. Low Glutathione levels are linked to numerous health deficiencies.

Until recently, Glutathione has been difficult to supplement - typically available by IV therapy from healthcare providers. This is because Glutathione is a delicate molecule (technically a tri-peptide), and breaks down easily during digestion when taken orally. One answer was to try to orally supplement the parts that make up Glutathione and hope the body can assemble some internally - but that isn't optimal. The solution is the newly encapsulated liposomal supplement form… and Lipo Naturals makes a natural liposomal formula. Liposomes help Glutathione bypass digestive breakdown, and deliver a strong dose to the liver and other organs. It's then used throughout the body.

Why is Vitamin C in the Lipo Naturals Glutathione Complex?

Do I buy both the Glutathione and Liposomal Vitamin C? Research with Glutathione is fairly new, but we know that when levels of Vitamin C are higher in the blood, it helps with of some of the 'dirty work' that Glutathione would have to do with scavenging free radicals (the antioxidant part). This frees up available Glutathione for other tasks, such as helping with DNA repair (anti-aging) and skin UV protection. There are other proprietary reasons for Vitamin C in our formulation that boost the Glutathione even further, really powering the benefits.

If you are seeking the benefits of Vitamin C, then Lipo Naturals Liposomal Vitamin C has a much higher dose of Vitamin C and is more appropriate for Vitamin C supplementation. Most customers use each product for different, if related, reasons - so they may purchase both.

How do I store Lipo Naturals?

For maximum potency over the course of your dosage with the product, we suggest you store the product in your refrigerator. It is still fine to take it on a trip or while traveling outside without refrigeration, the product will not spoil. Very old and opened product will just lose potency.

Is the pouch BPA Free?

Yes! Unlike other liposomal supplements, Lipo Naturals is packaged in a specially designed pouch that uses many layers of different BPA-free materials to protect the freshness and integrity of the liposomes. The inner layer is specially selected to be acid tolerant and the safest available.

I live in an area with freezing/hot temperatures, is the product okay during shipment since it says 'Refrigerate Upon Purchase' on the label?

The product is very robust to extreme temperatures up to about 125F - and can tolerate freezing temperatures for short periods of time. It says 'Refrigerate Upon Purchase' on the label because chilling it slows potency loss over months. The shipping time (even internationally) would not affect potency as the product is designed to be on a store shelf in ambient temperatures up to the "Best By" date (about 8 months) with limited potency loss. If still concerned, US/Canada residents can request "Hold For Pickup" in your order notes on checkout. Your shipment will be held at your local post office in air conditioning instead of delivering it in your mailbox. The mail carrier will deliver a pick-up notice to your mailbox.

Is your question not here? Please Contact Us and we'll do our best to give you a prompt and accurate answer.
"I consider this the #1 health product in my kitchen."
- David G / Verified Customer -
Effect ingredients at an amazing price. Just force it down lol
It's is a wonderful product! It has help my brother blood sugar to be manageable as the reading has come down from what it used to be. He is looking younger and happier ever since he started taking it. He is on the 3rd back now. Pls keep it up and don't compromise the quality. After this 3rd pack, he will pause for one month and come back again.
Not bad taste with lemon juice concentrate.
One week only twice a day five minutes before eating I been taking this..YES.. I actually am feeling better inner strength... my dermatologist recommended this. Guess my body really needed it. Thanks for coming up with a great product.
Good quality product. Highly recommend.
Just started, but feel better in the morning.
It works well.
The company is very helpful, personable, prompt and attentive.